Hisham El-Bayar, MD. FACS.

Dr. El-Bayar graduated from UCLA with a Bachelor of Science Degree in 1980. He attended the Georgetown University School of Medicine where he obtained a Master's Degree in Physiology and obtained his Medical Degree in 1986. Dr. El-Bayar then completed his residency in General Surgery at University of California San Diego Medical Center where he received his training in General Surgery, Trauma as well as Hepato-biliary Surgery. 

Dr. Bayar is Board Certified in General Surgery He principally practices at St. Joseph Hospital in Orange, with an emphasis in Liver, Pancreatic, Breast surgery and Surgical Oncology.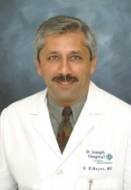 American College of Surgeons

American Medical Association

American Society of Breast Surgeons

California Medical Association

Society of Surgical Oncology